K1000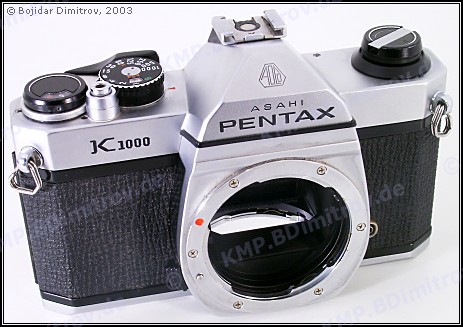 General Description
The K1000 is very similar to the KM except for the self-timer and DOF preview which only the KM provides. With both cameras, a needle in the viewfinder indicates over-, under-, or correct exposure.
The K1000 was sold more than 2 000 000 times as it was relatively cheap, highly reliable, and highly regarded as the perfect tool for learning photography, as it has no features whatsoever that could distract from composing, focusing and ensuring correct exposure. It is still in great demand today as a used camera and relatively expensive.
From 1975 to 1978, the K1000 was made in Japan. From 1978 to 1990 it was made in Hong Kong. Finally, from 1990 to 1997, it was made in China.
Product Variations
Exact Name
K1000
K1000
K1000
Color
silver-black
gold-brown
K1000_go_bl
Year of Introduction
1967

unknown

~

unknown

unknown

~

unknown

Catalog Number
04500

unknown

unknown

Sold with Case
—
—
—
Technical Specifications
General
Lens Mount
K
Mount Limitations
The lens must be set to a numerical aperture
Self-Timer
—
Mirror Lock-Up
—
Cable Release
mechanical
Infra-Red Release
—
Additional Features
—
Width x Height x Depth
143 x 91.5 x 49 mm
Weight
620 g
Exposure System
Exposure Modes
M
Metering Modes with K and M Lenses
full-frame
Metering Modes with A and newer Lenses
full-frame
Meter Material
CdS
Exposure Compensation (Step)
N/A
Meter Range
3 ~ 18 EV
Manual ISO Range
32 ~ 3200 ASA
Shutter
Construction
mechanical (horizontal)
Material
silk
Shutter Speeds
1 ~ 1/1000, B
Mechanical Speeds
all
Viewfinder
Magnification [Coverage]
0.88x [91%]
Aperture Indication
—
Shutter-Speed Indication
needle
Interchangeable Screens
—
Power Source
Batteries
1 x 1.5 Volt silver-oxide (A76, SR44) or alkaline (LR44)
External
—
Continuous Shooting
Continuous Shooting
manual wind lever
Flash System
Command Protocol(s)
analog
Features
—
Synchronization Speed(s)
1/60 ~ 1, B
Built-In Flash
—
Accessories
Fitting Case(s)

unknown