Pentax Technology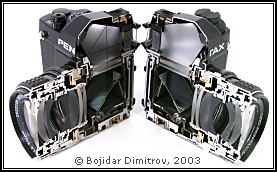 General
Lenses
Bodies
Flash
Flash Systems Evolution, Features and Operation. Introduces some general flash terminology and types of flash equipment. Groups the Pentax flash equipment into categories, and explains how they function.
Flash Names. Explains how the names of the Pentax flash units are formed and what they mean.
Off-Camera Flash Setups. Explains how to use flashes without mounting them directly on the camera's hot-shoe.
Other Misc Equipment