K2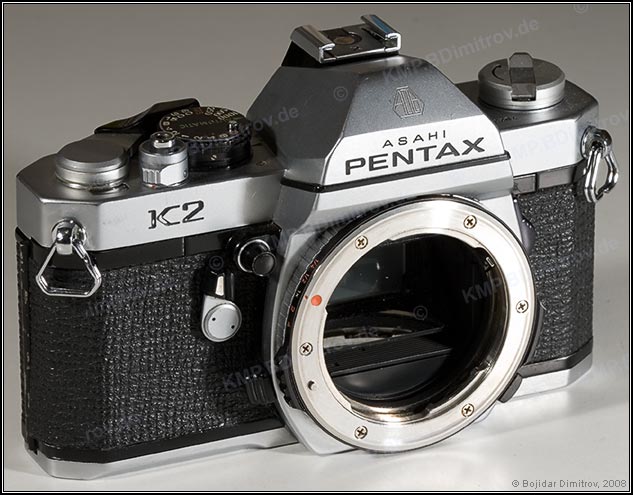 General Description
When introduced in 1975, the beautiful K2 was one of the first cameras having the K-mount, and it was the one Pentax K-mount camera offering automatic (aperture prioroty) exposure.
4 years before, the screw mount Asahi Pentax Electrospotmatic was the first SLR camera to automatically select the correct shutter speed in accordance with the priorily selected aperture value. This "Automatic" or aperture priority mode became the backbone of many Pentax SLRs. The next ones – still with screw mount – were the ES and the ES II. Apart from the "Automatic" mode, manual operation was possible, too, however these cameras had a rather limited range of manual shutter speeds (1s/60 … 1s/1000, and B). For the K2, the manually selectable shutter speeds range from 1s to 1s/1000 (and B).
The K2 was also the first Pentax offering exposure factors (¼×, ¼×, 1×, 2×, 4×) to deliberately under- oder overexpose, or to correct the automatically selected shutter speed in accordnace with the brightness of the subject or with the lighting conditions. The exposure factor can be selected with a ring or wheel that encircles the bayonet mount – a construction that is found on the K2 and K2 DMD, only.
Product Variations
Exact Name
K2
K2
Color
silver-black
black
Year of Introduction
1975
1975
Sales Variations
Description
with microprism viewing screen
with split-image viewing screen
with microprism viewing screen
with split-image viewing screen
Catalog Number
03000
03020
03010
03030
Sold with Case
—
—
—
—
Technical Specifications
General
Lens Mount
K
Mount Limitations
The lens must be set to a numerical aperture
Self-Timer
5 ~ 9 sec
Mirror Lock-Up
yes
Cable Release
mechanical
Infra-Red Release
—
Additional Features
DOF preview
Width x Height x Depth
144 x 92 x 57 mm
Weight
680 g
Exposure System
Exposure Modes
Av, M
Metering Modes with K and M Lenses
center-weighted
Metering Modes with A and newer Lenses
center-weighted
Meter Material
SPD
Exposure Compensation (Step)
+/-2 (1 EV steps)
Exposure Lock
—
Meter Range
1 ~ 18 EV
Manual ISO Range
8 ~ 6400 ASA
Shutter
Construction
electronic (vertical)
Material
metal
Shutter Speeds
8 ~ 1/1000, B
Mechanical Speeds
1/1000, X, B
Viewfinder
Magnification [Coverage]
0.88x [95%]
Aperture Indication
—
Shutter-Speed Indication
needle
Interchangeable Screens
—
Power Source
Batteries
2 x 1.5 Volt silver-oxide (A76, SR44) or alkaline (LR44)
External
—
Continuous Shooting
Continuous Shooting
manual wind lever
Flash System
Command Protocol(s)
analog
Features
—
Synchronization Speed(s)
1/125 ~ 8, B
Built-In Flash
—
Accessories
Fitting Case(s)

unknown