LX (late version)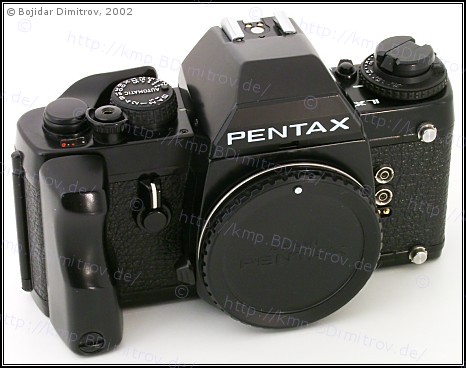 General Description
During its long production rung, the Pentax LX was updated at least three times. The latest camera revision has three visible differences compared to the earliest: there are two white points missing on the front of the first shutter curtain; pressing the button that releases the viewfinder causes the light meter to turn on, and the shutter-lock switch features a new design. Severals attempts to gather information about camera serial numbers and design variations have failed due to inconclusive data.
The titanium LX is a special edition body celebrating the 75th anniversary of Asahi Opt. Co. Only one thousand of these bodies were manufactured. Each one features titanium top and bottom plates. The LX limited is a special edition body celebrating 15 years of LX production. The body features a titanium top and bottom plates which are painted in black, and carries the inscription "titanium". The LX 2000 is a special edition body celebrating LX production in the year 2000. The body was sold in a set with the SMC-A 50/1.2 Special lens. This body comes with the FF-60 viewing scren, and not with the "standard" SC-21.
Product Variations
Exact Name
LX
LX (Titanium)
LX (Limited)
LX 2000
Color
black
titanium-black
titanium-black
silver-black
Year of Introduction

unknown

~ 2001
1994
1994
2000
Catalog Number
09010

unknown

unknown

unknown

Sold with Case
—
—
—
—
Technical Specifications
General
Lens Mount
K
Mount Limitations
The lens must be set to a numerical aperture
Self-Timer
4 ~ 10 sec
Mirror Lock-Up
yes
Cable Release
mechanical
Infra-Red Release
—
Additional Features
weather sealed, DOF preview, mirror lock-up
Width x Height x Depth
144.5 x 90.5 x 50 mm
Weight
570 g
Exposure System
Exposure Modes
Av, M
Metering Modes with K and M Lenses
off-the-film
Metering Modes with A and newer Lenses
off-the-film
Meter Material
SPD
Exposure Compensation (Step)
+/-2 (1/3 EV steps)
Exposure Lock
—
Meter Range
-6.5 ~ 20 EV
Manual ISO Range
6 ~ 3200 ASA
Shutter
Construction
hybrid (horizontal)
Material
titanium
Shutter Speeds
125 ~ 1/2000, B
Mechanical Speeds
X ~ 1/2000
Viewfinder
Magnification [Coverage]
0.00x [98%]
Aperture Indication
optical
Shutter-Speed Indication
LED
Interchangeable Viewfinders
yes
Interchangeable Screens
yes
Power Source
Batteries
2 x 1.5 Volt silver-oxide (A76, SR44) or alkaline (LR44)
External
—
Continuous Shooting
Continuous Shooting
manual wind lever
Compatible with Motor Drive(s)
LX
Compatible with Winder(s)
LX
Flash System
Command Protocol(s)
analog
Features
TTL, S
Synchronization Speed(s)
1/75
Built-In Flash
—
Accessories
Fitting Case(s)
soft case: LX Soft Case
Subjective Evaluation
Contrarary to expectations, with increasing age even the newest-design LX bodies develop the "sticky-mirror syndrome." Regardless, like discussed here, the LX is still a very desirable camera to own, and certainly worth having cleaned-up, adjusted or repaired.