MX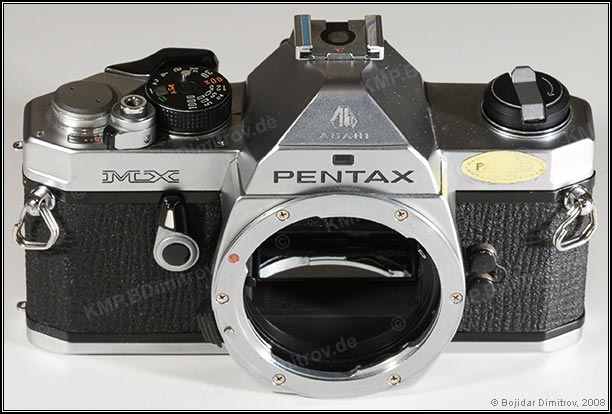 General Description
This is one of Pentax's simplest, most robust, most beautiful, and most popular cameras. It features manual focus, manual exposure and fully manual flash operation. It is fully mechanical, and uses batteries only for its light meter. But it features DOF preview, self-timer, interchangeable screens, and interchangeable backs. A winder and motor drive are available as optional accessories. The viewfinder offers an optical readout of the selected lens aperture and shutter speed as well as five LEDs that indicate how far the manually-set exposure is from the camera's recommendation: 1 EV or more under, 1/2 EV under, identical, 1/2 EV over, 1 EV or more over. The camera is extremely small, light, and easy to use.
On the negative side, the camera's design is from the late 1970's and supports only center-weighted metering, has a slow flash sync-speed, and no flash automation of any kind. Parts for the MX are getting difficult to find.
The MX does not officially feature mirror lockup. With some practice, however, it is possible with a quick and light tip on the shutter release to raise the mirror and with a subsequent (normal) click to release the shutter. This trick works better on some cameras as on others, and the opinions of the more engineering-inclined MX users are divided as to whether or not this induces additional wear-and-tear on the camera's mechanisms.
Prices for used black-silver units have fallen below US $100. Black ones tend to fetch up to US $50 more.
The MX Data is a very rare body modification. It features the following two additions: data-back contacts and a metal "tab" that blocks light from the image area where the data imprinting takes place. This tab can be folded away when no data imprinting is required.
Product Variations
Exact Name
MX
MX
MX (data)
Color
silver-black
black
silver-black
Year of Introduction
1976
1976

unknown

~

unknown

Catalog Number
05000
05010
05200
Sold with Case
—
—
—
Technical Specifications
General
Lens Mount
K
Mount Limitations
The lens must be set to a numerical aperture
Self-Timer
4 ~ 12 sec
Mirror Lock-Up
—
Cable Release
mechanical
Infra-Red Release
—
Additional Features
DOF preview
Width x Height x Depth
135.8 x 82.5 x 49.3 mm
Weight
495 g
Exposure System
Exposure Modes
M
Metering Modes with K and M Lenses
center-weighted
Metering Modes with A and newer Lenses
center-weighted
Meter Material
GPD
Exposure Compensation (Step)
N/A
Meter Range
1 ~ 19 EV
Manual ISO Range
25 ~ 1600 ASA
Shutter
Construction
mechanical (horizontal)
Material
silk
Shutter Speeds
1 ~ 1/1000, B
Mechanical Speeds
all
Viewfinder
Magnification [Coverage]
0.97x [95%]
Aperture Indication
optical
Shutter-Speed Indication
optical
Interchangeable Screens
yes
Power Source
Batteries
2 x 1.5 Volt silver-oxide (A76, SR44) or alkaline (LR44)
External
—
Continuous Shooting
Continuous Shooting
manual wind lever
Compatible with Motor Drive(s)
MX
Compatible with Winder(s)
MX
Flash System
Command Protocol(s)
analog
Features
—
Synchronization Speed(s)
1/60 ~ 1, B
Built-In Flash
—
Accessories
Fitting Case(s)
soft case: 'MX Soft Case