MZ-S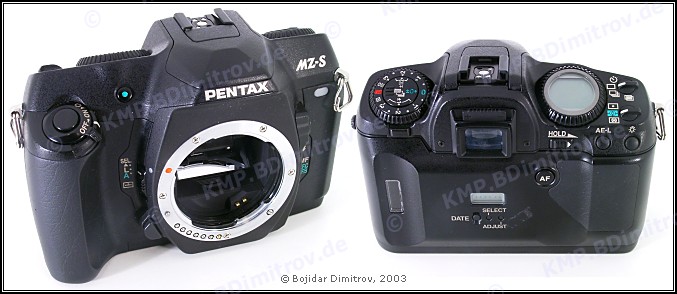 General Description
The MZ-S is the culmination of the successful MZ / PZ series of cameras. It is also the successor of the long-time Pentax AF top model Z1-p /PZ-1p. Thus, the heritage of the MZ-3 with its classical user interface was combined with some of the "Hyper" functionalities of the Z1-p /PZ-1p. The result is a camera body whose design and user interface are quite different from those of both its ancestors.
The MZ-S was the first Pentax with a housing made of mangesium alloy. The MZ-S and the MZ-6 / ZX-L were last of the MZ / ZX series cameras and the first Pentax SLRs incorporating the P-TTL flash system allowing for wireless TTL flash control.
The following custom functions are available:
Beep on/off
Program P/PA/PD/MTF program
Number of exposures in auto-bracketing 2 / 3 /5
Sequence of auto-bracketing 0,+,- / -,0,+ / +,0,-
Metering at focussing or by release
AF key only focussing or metering and focussing
DX code or manual setting of ISO
Autmatic choose of neighboured AF field or not
Shutter operation when flash not fully sharged: fire or not fire
Built in flash as flash or as steering unit for cableless flash
Function of light up key: normal / test flash light / adjustment flash light
Film rewind: full rewind / leaves film leader out / leaves film leader out and mid roll change
Film rewind at the end of the film: automatic / manually triggered
Self shutter release time: 12 seconds normal / 2 seconds with mirror lock up
Intension of data imprinting: auto (ISO) / low / middle / high
By half pressed shutter: Focussing / no focussing (Focussing only with AF key)
Rotation direction of wheel: value increases clockwise roation / value decreases clockwise
Lens button help light when change key pressed: yes / no
Shutter release time with IR-remote control: 3 seconds / immediately
The MZ-S itself does not feature an infra-red remote release, but its dedicated battery pack BG-10 does.
Product Variations
Exact Name
MZ-S
MZ-S
Color
black
silver-black
Year of Introduction
2001
2001
Sales Variations
Catalog Number
01385
05048
01386
Sold with Case
—
—
—
Technical Specifications
General
Lens Mount
KAF2
Mount Limitations
—
AF System (sensitivity)
SAFOX VII (-1 ~ 18 EV)
AF with supersonic lenses
—
Power-Zoom Features
auto-lens retract, power zoom
Self-Timer
12 sec
Mirror Lock-Up
—
Cable Release
CS-105/CS-130
Infra-Red Release
—
Custom Functions
19
Additional Features
DOF preview, mirror lock-up
Width x Height x Depth
136.5 x 95 x 64 mm
Weight
520 g
Exposure System
Exposure Modes
Av, HyM, M, Tv
Metering Modes with K and M Lenses
center-weighted, spot
Metering Modes with A and newer Lenses
6-segment, center-weighted, spot
Meter Material
SPD
Exposure Compensation (Step)
+/-3 (1/2 EV steps)
Exposure Lock
yes
Meter Range
0 ~ 21 EV
Manual ISO Range
6 ~ 6400 ASA
Film DX Range
25 ~ 5000 ASA
Shutter
Construction
electronic (vertical)
Material
metal
Shutter Speeds
30 ~ 1/6000, B
Mechanical Speeds
—
Viewfinder
Magnification [Coverage]
0.75x [92%]
Aperture Indication
LED
Shutter-Speed Indication
LED
Interchangeable Screens
yes
Power Source
Batteries
2 x CR2
External
Battery Grip BG-10
Continuous Shooting
Continuous Shooting
2.5 frames per second
Flash System
Command Protocol(s)
analog
Features
W, HS, P-TTL, TTL, P, S
Synchronization Speed(s)
1/180 ~ 30, B
Built-In Flash
Guide Number (GN)
12
Coverage (35mm equivalent)
24
Auto Pop-Up
—
Red-Eye Reduction
yes
AF Assist
yes
Accessories
Fitting Case(s)
soft case: CF-10