SFX / SF1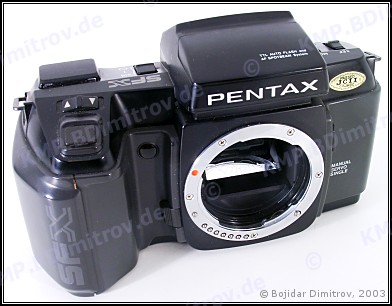 General Description
The SFX / SF1 was Pentax's answer to the overwhelming success of the Minolta 7000 auto
focus SLR camera. Like the Minolta 7000 and unlike the much earlier PENTAX ME F, the auto focus motor is
integrated into the camera body. With the SFX / SF1, the new F series auto focus lenses are introduced.
The SFX / SF1 fully supports all older K-, M- and A-series lenses, and the F-series lenses can be used
on all K-mount bodies before and after the SFX / SF1.
The SFX / SF1 was the very first SLR camera offering a built-in flash. The hot-shoe for external flashes now sits on top of the large camera grip, so that internal and external flashes can be used simultaneously.
Product Variations
Exact Name
SFX
SF1
Color
dark grey
dark grey
Year of Introduction
1987
1987
Catalog Number

unknown

unknown

Sold with Case
—
—
Technical Specifications
General
Lens Mount
KAF
Mount Limitations
—
AF System (sensitivity)
SAFOX (2 ~ 18 EV)
AF with supersonic lenses
—
Power-Zoom Features
—
Self-Timer
12 sec
Mirror Lock-Up
—
Cable Release
cable release F
Infra-Red Release
—
Additional Features
—
Width x Height x Depth
157 x 99 x 63.5 mm
Weight
665 g
Exposure System
Exposure Modes
Av, M, P, Pdepth, Pspeed, Tv
Metering Modes with K and M Lenses
center-weighted
Metering Modes with A and newer Lenses
center-weighted
Meter Material
GPD
Exposure Compensation (Step)
+/-4 (1/2 EV steps)
Exposure Lock
yes
Meter Range
1 ~ 20 EV
Manual ISO Range
6 ~ 6400 ASA
Film DX Range
25 ~ 5000 ASA
Shutter
Construction
electronic (vertical)
Material
metal
Shutter Speeds
30 ~ 1/2000, B
Mechanical Speeds
—
Viewfinder
Magnification [Coverage]
0.81x [92%]
Aperture Indication
—
Shutter-Speed Indication
LED
Interchangeable Screens
—
Power Source
Batteries
1 x 6 Volt 2CR5
External
AA Battery Grip SF (uses 4 AA-size batteries)
Continuous Shooting
Continuous Shooting
1.8 frames per second
Flash System
Command Protocol(s)
analog
Features
TTL, P, S
Synchronization Speed(s)
1/100 ~ 30, B
Built-In Flash
Guide Number (GN)
14
Coverage (35mm equivalent)
35
Auto Pop-Up
—
Red-Eye Reduction
—
AF Assist
yes
Accessories
Fitting Case(s)

unknown