Z-1p / PZ-1p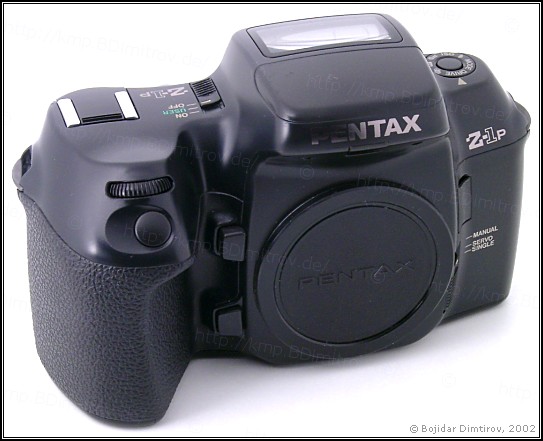 General Description
From the time of its release (1995) until the release of the MZ-S (2001), the body was Pentax's AF flagship. The camera is large and heavy, but also solid and well-built. Most functions are selectable through two wheels positioned under the thumb and index finger as well as a function selector on the upper-left side. The camera's features are targeted towards professional users: separate flash and ambient exposure controls, custom functions, exposure control in 1/2 or 1/3 EV steps, fast shutter and flash synchronization, DOF preview, 2-second mirror-prefire, multiple exposure, interchangeable screens, spot metering, custom user mode, etc. Very useful is also the ability to "shift" exposure along the program curve and to instantly jump to the camera's internal preference (even under changing light conditions).
The camera has a few weak points too: dust gets to its insides quite quickly, it consumes a lot of power, there is no AA battery pack available for it, and the TTL flash system lacks evaluative and multi-segment TTL flash metering. A few mechanisms seem fragile: the mechanics of the built-in flash, the battery compartment cover, and the base plate. The viewfinder is well laid out, but offers only 92% coverage. But the biggest problem with this camera is Pentax's lack of commitment and further development. In the years between 1995 and 2001, the competing manufacturers upgraded their models a number of times while Pentax left this body with a small number of fitting accessories and an AF system whose performance was quickly outdated by the competitors
Many of the disadvantages of this camera have been addressed by the "new" flagship, the MZ-S.
The Pentax FDP Grip Strap is a hollow plastic device that looks like a battery pack, but its only function is to improve the handling of the Z-1/PZ-1 and Z-1p/PZ-1p cameras.
Product Variations
Exact Name
Z-1p
PZ-1p
Color
black
black
Year of Introduction
1994
1994
Sales Variations
Catalog Number

unknown

03525
06725
Sold with Case
—
—
—
Technical Specifications
General
Lens Mount
KAF2
Mount Limitations
—
AF System (sensitivity)
SAFOX II (-1 ~ 18 EV)
AF with supersonic lenses
—
Power-Zoom Features
auto-lens retract, image-size tracking, power zoom, zoom clip, zoom effect
Self-Timer
12 / 2 sec
Mirror Lock-Up
—
Cable Release
cable release F
Infra-Red Release
—
Panorama Functionality
yes
Custom Functions
15
Additional Features
DOF preview, mirror lock-up
Width x Height x Depth
152 x 95.5 x 74 mm
Weight
650 g
Exposure System
Exposure Modes
Av, HyM, HyP, P, Tv
Metering Modes with K and M Lenses
center-weighted, spot
Metering Modes with A and newer Lenses
8-segment, center-weighted, spot
Meter Material
SPD
Exposure Compensation (Step)
+/-4 (1/3 or 1/2 EV steps)
Exposure Lock
yes
Meter Range
0 ~ 21 EV
Manual ISO Range
6 ~ 6400 ASA
Film DX Range
25 ~ 5000 ASA
Shutter
Construction
electronic (vertical)
Material
metal
Shutter Speeds
30 ~ 1/8000, B
Mechanical Speeds
—
Viewfinder
Magnification [Coverage]
0.80x [92%]
Aperture Indication
LED
Shutter-Speed Indication
LED
Interchangeable Screens
—
Power Source
Batteries
1 x 6 Volt 2CR5
External
—
Continuous Shooting
Continuous Shooting
4 frames per second
Flash System
Command Protocol(s)
analog
Features
TTL, P, S
Synchronization Speed(s)
1/250 ~ 30, B
Built-In Flash
Guide Number (GN)
14
Coverage (35mm equivalent)
28
Auto Pop-Up
—
Red-Eye Reduction
yes
AF Assist
yes
Accessories
Fitting Case(s)
soft case: Fd(s),
soft case: Fd(m),
soft case: Fd(l)