Z-1 / PZ-1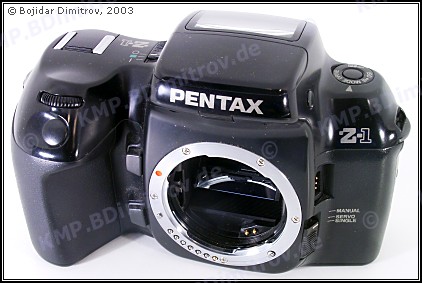 General Description
The Z1 /PZ-1 and its only slightly different succesor, the Z1 /PZ-1, were Pentax's AF flagships for 10 years!
For adapting the camera to the need of the indvidual user, the following functions are available:
1. Metering: spot | center-weighted
2. Program: P | Pa | Pd | MTF program
3. Exposure compensation: 1/3 EV | 1/2 EV
4. Shutter-speed increment: 1 EV | 1/2 EV
5. Hp shift: Av and Tv shift | Av and Tv do not shift; warning appears
6. Hm shift with IF button: program line | Av lock | Tv lock
7. IF-button function in Hm: Av and Tv stepped adjustment | stepless adjustment
8. Film speed setting: automatic | user-selected
9. RTF operation with wider lenses: fires | does not fire
10. Shutter operation when RTL not fully sharged: fires | does not fire
11. Film rewind: full rewind | leaves film leader out
12. Film rewind at the end of the film: automatic | manually triggered
13. Size-tracking PZ mode: uses preset value | full-size shots | head-up shots
14. Number of preset focal lengths in zoom-clip mode: 1 | 2
15. Power-zoom during exposure: disabled | enabled
16. Zoom-effect direction: towards wide | towards tele
17. "ML" button function: locks exposure | locks exposure and focus
18. Shutter operation in Size Tracking mode: release when focused | release when proper image size is achieved.
The Z-1 SE is a special edition body, commemorating the 75th anniversary of Asahi Optical Co.
Product Variations
Exact Name
Z-1
Z-1 SE
PZ-1
Color
black
silver-black
black
Year of Introduction
1991
1994
1991
Catalog Number

unknown

06681

unknown

Sold with Case
—
—
—
Technical Specifications
General
Lens Mount
KAF2
Mount Limitations
—
AF System (sensitivity)
SAFOX II (-1 ~ 18 EV)
AF with supersonic lenses
—
Power-Zoom Features
auto-lens retract, image-size tracking, power zoom, zoom clip, zoom effect
Self-Timer
12 / 2 sec
Mirror Lock-Up
—
Cable Release
cable release F
Infra-Red Release
—
Custom Functions
18
Additional Features
DOF preview, mirror lock-up
Width x Height x Depth
152 x 95.5 x 74 mm
Weight
650 g
Exposure System
Exposure Modes
Av, HyM, HyP, M, P, Tv
Metering Modes with K and M Lenses
center-weighted, spot
Metering Modes with A and newer Lenses
8-segment, center-weighted, spot
Meter Material
SPD
Exposure Compensation (Step)
+/-4 (1/3 or 1/2 EV steps)
Exposure Lock
yes
Meter Range
0 ~ 20 EV
Manual ISO Range
6 ~ 6400 ASA
Film DX Range
25 ~ 5000 ASA
Shutter
Construction
electronic (vertical)
Material
metal
Shutter Speeds
30 ~ 1/8000, B
Mechanical Speeds
—
Viewfinder
Magnification [Coverage]
0.80x [92%]
Aperture Indication
LED
Shutter-Speed Indication
LED
Interchangeable Screens
—
Power Source
Batteries
1 x 6 Volt 2CR5
External
—
Continuous Shooting
Continuous Shooting
3 frames per second
Flash System
Command Protocol(s)
analog
Features
TTL, P, S
Synchronization Speed(s)
1/250 ~ 30, B
Built-In Flash
Guide Number (GN)
14
Coverage (35mm equivalent)
35
Auto Pop-Up
—
Red-Eye Reduction
—
AF Assist
yes
Accessories
Fitting Case(s)
soft case: Fd(s),
soft case: Fd(m),
soft case: Fd(l)