Z-5p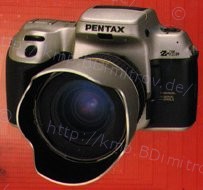 General Description
The custom function of this body can be set only at an authorized service center. The following functions are available:
1. Metering: spot | center-weighted
2. exposure compensation and auto-bracketing: 1/3 EV step | 1/3 EV step
3. film rewind: wind completely | leave the film leader
4. rewind mode: start rewind automatically | start rewind manually
5. function of ML button: lock exposure | lock exposure and focus
The first value that is listed is the factory setting, and the value that follows the '|' sign is the alternative.
Product Variations
Exact Name
Z-5p
Z-5p
Color
silver-black
black
Year of Introduction
1995
1995
Catalog Number

unknown

unknown

Sold with Case
—
—
Technical Specifications
General
Lens Mount
KAF2
Mount Limitations
—
AF System (sensitivity)
SAFOX II (-1 ~ 18 EV)
AF with supersonic lenses
—
Power-Zoom Features
auto-lens retract, image-size tracking, power zoom, zoom clip
Self-Timer
12 / 2 sec
Mirror Lock-Up
—
Cable Release
cable release F
Infra-Red Release
—
Panorama Functionality
yes
Custom Functions
5
Additional Features
DOF preview, mirror lock-up
Width x Height x Depth
152 x 95.5 x 74 mm
Weight
650 g
Exposure System
Exposure Modes
Av, HyM, HyP, P
Metering Modes with K and M Lenses
center-weighted, spot
Metering Modes with A and newer Lenses
8-segment, center-weighted, spot
Meter Material
SPD
Exposure Compensation (Step)
'+/-4 (1/2)
Exposure Lock
yes
Meter Range
0 ~ 20 EV
Manual ISO Range
6 ~ 6400 ASA
Film DX Range
25 ~ 5000 ASA
Shutter
Construction
electronic (vertical)
Material
metal
Shutter Speeds
30 ~ 1/8000, B
Mechanical Speeds
—
Viewfinder
Magnification [Coverage]
0.80x [92%]
Aperture Indication
LED
Shutter-Speed Indication
LED
Interchangeable Screens
—
Power Source
Batteries
1 x 6 Volt 2CR5
External
—
Continuous Shooting
Continuous Shooting
4 frames per second
Flash System
Command Protocol(s)
analog
Features
TTL, P, S
Synchronization Speed(s)
1/250 ~ 30, B
Built-In Flash
Guide Number (GN)
14
Coverage (35mm equivalent)
28
Auto Pop-Up
—
Red-Eye Reduction
—
AF Assist
yes
Accessories
Fitting Case(s)
soft case: Fd(s),
soft case: Fd(m),
soft case: Fd(l)