*ist D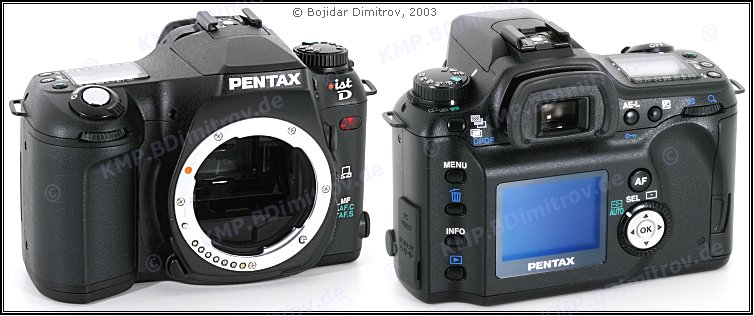 General Description
The *ist D was the first digital Pentax K-mount camera that actually hit the market (in 2003).
Like all Pentax K-mount digital cameras (at least until 2014), the *ist D incorporates an image sensor with the dimensions 23.5 mm x 15.7 mm. This digital sensor format with 28.3 mm diagonal is considerably smaller than the 36 mm x 24 mm small image format of analogue Pentax K-mount cameras, whose 43.3 mm diagonal is 1.53 times longer. Thus, for the digital sensor format, "normal" lenses have a focal length of 28mm or 35mm, yielding the same angle of view like 43mm or 53mm lenses mounted on an analogue K-mount camera.
With the *ist D, Pentax introduced an all new AF system (SAFOX VIII) with 11 AF sensors of which 9 are sensitive to both, horizontal and vertical structures. All Pentax AF systems before had sensors that were sensitive to either horizontal or vertical structures, not for both.
The *ist D is the only Pentax digital K-mount camera that uses CompactFlash (CF) cards or MicroDrives as storage media. All later Pentax digital K-mount cameras use SD cards.
The *ist D and all its exposure and metering modes are fully compatible with all Pentax K-mount lenses with auto focus (F-, FA-, FA-J-, DFA- and DA- series) as well as with the manual focus A-series lenses, provided that the lens's aperture ring (if existant) is locked in the "A" position. For K- and M-series lenses as well as for lenses with an aperture ring that is turned away from the "A" position, the lens shall be used either in "Av" mode (at open aperture, only) or in "M" mode (at the selected aperture and with stop-down metering). This is due to the fact that the *ist D like all later Pentax K-mount digital cameras has no ability to read out the position of the lens's aperture ring (because the camera has no aperture simulator).
Product Information
Exact Name
*ist D
Color
black
Year of Introduction
2003
Catalog Number
18981
Sold with Case
—
Technical Specifications
General
Lens Mount
"crippled" KAF2
Mount Limitations
digital A aperture or metered manual only
AF System (sensitivity)
SAFOX VIII, 11 sensors (-1 ~ 18 EV)
AF with supersonic lenses
—
Power-Zoom Features
—
Self-Timer
12 / 2 sec
Mirror Lock-Up
—
Cable Release
CS-205
Infra-Red Release
remote control F
Custom Functions
22
Additional Features
DOF preview
Width x Height x Depth
129 x 95 x 60 mm
Weight
550 g
Image Sensor
Effective Pixel Count
6.1 megapixel
Sensor Type
CCD
Sensor Size
15.7 x 23.5 mm
Focal-Length Multiplication Factor
1.53 x
Image Storage
Data-Storage Formats
RAW (PEF), TIFF, JPG
Storage Media
CompactFlash (CF) I and II, MicroDrive
Digital Features
Shake Reduction
—
Dust Removal
—
Live View
—
Orientation Sensor
—
Exposure System
Exposure Modes
Av, HyM, HyP, P, Tv
Metering Modes with K and M Lenses
center-weighted, spot
Metering Modes with A and newer Lenses
16-segment, center-weighted, spot
Meter Material
SPD
Exposure Compensation (Step)
+/-3 (1/2 EV steps)
+/-2 (1/3 EV steps)
Exposure Lock
yes
Meter Range
0 ~ 20 EV
ISO Range
200 ~ 3200 ASA
Shutter
Construction
electronic (vertical)
Material
metal
Shutter Speeds
30 ~ 1/4000, B
Mechanical Speeds
—
Viewfinder
Magnification [Coverage]
0.95x [95%]
Aperture Indication
LED
Shutter-Speed Indication
LED
Interchangeable Screens
yes
Power Source
Batteries
4 x 1.5 Volt AA Size or 2 x CR-3V
External
Battery Grip D-BG1
Continuous Shooting
Continuous Shooting
2.7 frames per second
Flash System
Command Protocol(s)
analog
Features
W, HS, P-TTL, TTL
Synchronization Speed(s)
1/150 ~ 30, B
Built-In Flash
Guide Number (GN)
11
Coverage (35mm equivalent)
28
Auto Pop-Up
—
Red-Eye Reduction
yes
AF Assist
yes
Accessories
Fitting Case(s)
soft case: CF-10,
soft case: O-CC10
Subjective Evaluation