K-3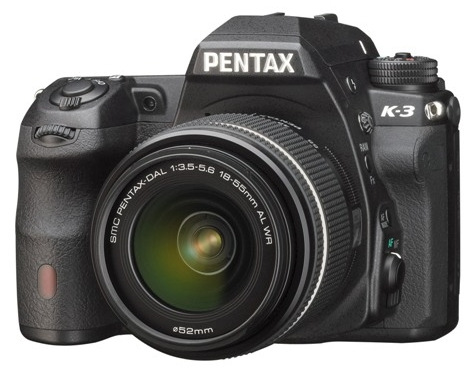 General Description
Like its predecessors, the K-7, K-5, and K-5 II(s), the K-3's body has a steel chassis, a mangesium-alloy shell, and many (92) seels to keep out dust and moisture.
Inside, the K-3 is almost all new. It wins over by many, many improved features: The resolution of the sensor is increased from 16 to 24 Megapixels. Like the K-5 IIs, the K-3 has no built-in anti-aliasing filter. However, it is the first camera that can simulate one by letting the image sensor vibrate at a frequency of 500 Hz, thus avoiding sampling artifacts (moire effects).
Like the K-5 II(s), the K-3 has an air-gap-free LCD monitor for better visibility under brightly-lit conditions. However, the diagonal is increased from 3″ to 3.2″, the resolution from 921,000 dots to 1.037.000. Likewise, the magnification of the pentaprism 100% viewfinder is increased from 0.92x to 0.95x.
The K-3 features a new SAFOX 11 AF module with 27 AF sensors (25 cross sensors). This gives more precise control where to put the focus as the area covered by each sensor is considerably smaller than with the preceeding 11-sensor SAFOX modules. The center sensor and the two sensors above and below it are able to detect the luminance flux of F2.8 lenses. This improves the focusing accuracy with fast lenses. The AF module incorporates a diffractive lens and a light-source sensor to further improve focusing accuracy, especially under low and/or artificial light.
The K-3 ist the first Pentax to feature a 86,000-pixel RGB light-metering sensor – whereas the K-5 / K-5 II(s) had a 77-field light metering sensor, only. The maximum frame reate is increased from 7 to 8.3 frames per second. At this rate one can shoot 60 images in JPEG format or 23 in RAW format. To keep camera-made vibrations low, the K3 has a new damper mechanism that minimizes the shock caused by the mirror.
For videographers, the K-3 offers a sockets for connecting an external stereo microphone as well as headphones. HD, full HD and 4k video recordings are possible.
The K-3 is the first Pentax DSLR offering a dual SD/SDHC card slot for two SD/SDHC card. Also, the K-3 is the first Pentax DSLR that can be controlled via SmartPhone with the help of a special dedicated PENTAX "FLU Card" that is to be inserted into one SD card slot.
The Pentax K-3 "Premium Silver Edition" was introduced at the same time as the standard black K-3. Only 2000 pieces were made. They were sold together with a sliver D-BG5 battery grip, a dedicated leather camera strap, and a spare battery.
Product Variations
Exact Name
K-3
K-3
Color
black
silver-black
Year of Introduction
2013
2013
Catalog Number
15529

unknown

Sold with Case
—
—
Technical Specifications
General
Lens Mount
"crippled" KAF2
Mount Limitations
digital A aperture or metered manual only
AF System (sensitivity)
SAFOX X, 27 sensors, 25 cross-sensors, f2.8 sensor (-3 ~ 18 EV)
AF with supersonic lenses
yes
Power-Zoom Features
auto-lens retract, power zoom
Self-Timer
12 / 2 sec
Mirror Lock-Up
—
Cable Release
CS-205
Infra-Red Release
remote control F
Custom Functions
27
Additional Features
weather sealed, DOF preview, mirror lock-up
Width x Height x Depth
131.5 x 100 x 77.5 mm
Weight
715 g
Image Sensor
Effective Pixel Count
24 megapixel
Sensor Type
CMOS
Sensor Size
15.6 x 23.5 mm
Focal-Length Multiplication Factor
1.53 x
Image Storage
Data-Storage Formats
RAW (DNG, PEF), RAW + JPG, JPG
Storage Media
Secure Digital (SD and SDHC)
Digital Features
Shake Reduction
yes
Dust Removal
yes
Live View
yes
Orientation Sensor
yes
Exposure System
Exposure Modes
Av, HyM, HyP, P, Pgreen, Sv, TAv, Tv
Metering Modes with K and M Lenses
center-weighted, spot
Metering Modes with A and newer Lenses
77-segment, center-weighted, spot
Meter Material
SPD
Exposure Compensation (Step)
+/-5 (1/2 or 1/3 EV steps)
Exposure Lock
yes
Meter Range
0 ~ 22 EV
ISO Range
80 ~ 51200 ASA
Shutter
Construction
electronic (vertical)
Material
metal
Shutter Speeds
30 ~ 1/8000, B
Mechanical Speeds
—
Viewfinder
Magnification [Coverage]
0.95x [100%]
Aperture Indication
LED
Shutter-Speed Indication
LED
Interchangeable Screens
yes
Power Source
Batteries
1 x Lithium-Ion D-LI90 rechargeable
External
Battery Grip D-BG5
Continuous Shooting
Continuous Shooting
8.3 frames per second
Flash System
Command Protocol(s)
—
Features
HS, P-TTL
Synchronization Speed(s)
1/180 ~ 30, B
Built-In Flash
Guide Number (GN)
13
Coverage (35mm equivalent)
28
Auto Pop-Up
yes
Red-Eye Reduction
yes
AF Assist
yes
Accessories
Fitting Case(s)

unknown