K-500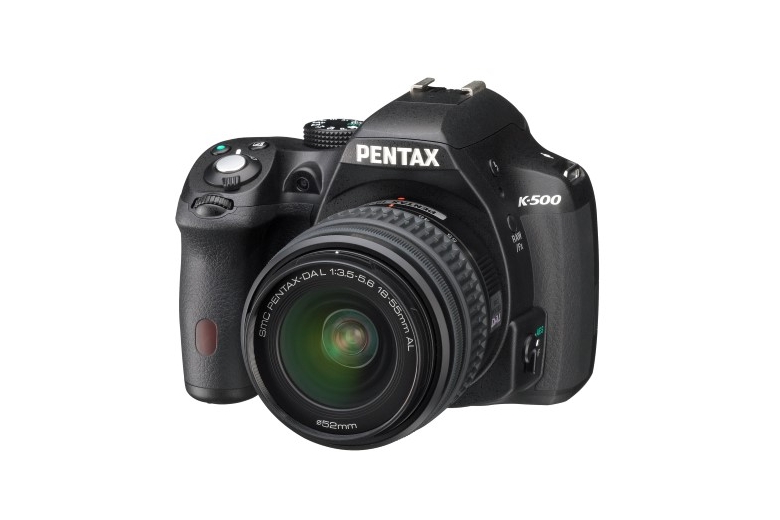 General Description
The K-500 ist identical to the K-50 except for three omissions: The K50's dust and weatherproof seals are absent in the K-500; the K-500 is available in black, only, wheres as the K-50 can be ordered in 120 colour combinations; and there are no focus field information in the OVF.
Like the K-50 the K-500 inherited almost all its technical features from the K-30, whose AF system, light metering etc. had proven to be reliable and convincing. Only the maximum available ISO was increased from ISO-25600 to ISO-51200.
Like the K-30 and the K-50, the K-500 incorporates many "higher-class" features like a pentaprism viewfinder with 100% coverage. Front AND thumb dials allow for swift setting of speed AND aperture, respectively. The CMOS image sensor with 16.3 effective megapixels is of high renown and well known from the K-5, K-5 II(s), and K-30. The reliable SAFOX IXi+ AF module with refraction lens and light source sensor was inherited from the K-30, too.
Product Information
Exact Name
K-500
Color
black
Year of Introduction
2013
Catalog Number
15506
Sold with Case
—
Technical Specifications
General
Lens Mount
"crippled" KAF2
Mount Limitations
digital A aperture or metered manual only
AF System (sensitivity)
SAFOX IXi+, 11 sensors, 9 cross-sensors (-1 ~ 18 EV)
AF with supersonic lenses
yes
Power-Zoom Features
—
Self-Timer
12 / 2 sec
Mirror Lock-Up
—
Cable Release
CS-205
Infra-Red Release
remote control F
Custom Functions
23
Additional Features
weather sealed, DOF preview, mirror lock-up
Width x Height x Depth
129 x 95.5 x 70 mm
Weight
590 g
Image Sensor
Effective Pixel Count
16.9 megapixel
Sensor Type
CMOS
Sensor Size
15.7 x 23.7 mm
Focal-Length Multiplication Factor
1.53 x
Image Storage
Data-Storage Formats
RAW (DNG, PEF), RAW + JPG, JPG
Storage Media
Secure Digital (SD and SDHC)
Digital Features
Shake Reduction
yes
Dust Removal
yes
Live View
yes
Orientation Sensor
yes
Exposure System
Exposure Modes
Pgreen, Video, (Hy)P, Sv, Tv, Av, TAv, (Hy)M, U1-2, SCN
Metering Modes with K and M Lenses
center-weighted, spot
Metering Modes with A and newer Lenses
77-segment, center-weighted, spot
Meter Material
SPD
Exposure Compensation (Step)
+/-5 (1/2 or 1/3 EV steps)
Exposure Lock
yes
Meter Range
0 ~ 22 EV
ISO Range
100 ~ 51200 ASA
Shutter
Construction
electronic (vertical)
Material
metal
Shutter Speeds
30 ~ 1/6000, B
Mechanical Speeds
—
Viewfinder
Magnification [Coverage]
0.92x [100%]
Aperture Indication
LED
Shutter-Speed Indication
LED
Interchangeable Screens
yes
Power Source
Batteries
1 x Lithium-Ion D-LI109 rechargeable
External
Battery Holder D-BH109 for 4 AA-sized batteries
Continuous Shooting
Continuous Shooting
6 frames per second
Flash System
Command Protocol(s)
—
Features
HS, P-TTL
Synchronization Speed(s)
1/180 ~ 30, B
Built-In Flash
Guide Number (GN)
12
Coverage (35mm equivalent)
28
Auto Pop-Up
—
Red-Eye Reduction
yes
AF Assist
—
Accessories
Fitting Case(s)
soft case: O-CC84