K-5 II / K-5 IIs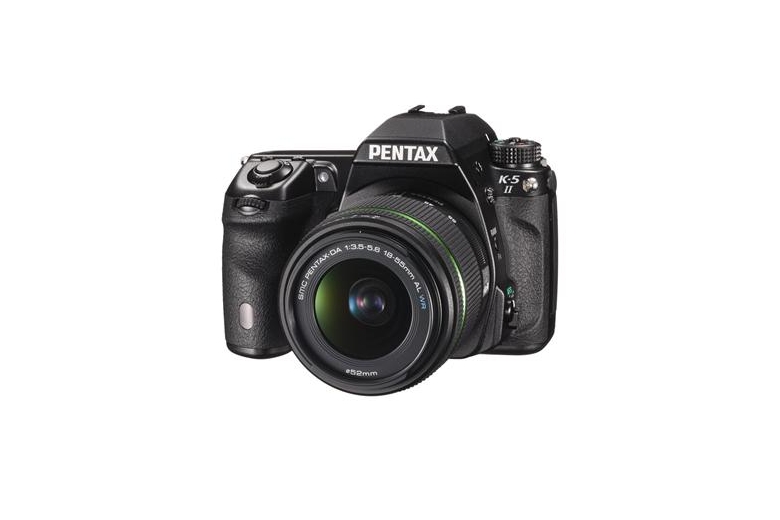 General Description
Being a "hardware update" of the K-5, the design of the K-5 II(s) remained unchanged. Most features like the highly-regarded 16 MP image sensor, the magnesium alloy body, or the user interface remained unchanged. However, the K5 II(s) did bring 3 good nwes:
Maybe the most important good news is the newly developed high-sensitivity "SAFOX X" auto-focus module with improved low-light capabilities and improved accuracy. The working EV range now strechtes from -3 EV to +18 EV. Unlike its SAFOX predecessors, SAFOX 10 is able to work with luminous flux based on F2.8 levels in addition to that of F5.6. This increases the AF accuracy when using fast lenses. Also, new algorithms shall do a better job for all lenses.
The second good news is the option to choose between the K-5 II and the K-5 IIs, i.e. between a model with built-in anti-aliasing filter and a model without that filter. While the anti-aliasing filter helps to avoid sampling artifacts when taking pictures of periodic structures or patterns, it also reduces detail resolution. Without this filter, the K-5 IIs achvieves a superior level of resolution and clarity – however at the risk of artifacts and/or incorrect colours when taking pictures of periodic patterns.
The third good news is a better visibility of the 3-inch LCD monitor (921,000 dots) under brightly-lit conditions. This is achieved by the eleminiation of the reflecting air-gap. between the (coated) front glass panel and the LCD screen. The gap is filled by a resin layer that effectively cuts down reflections, reducing ghost images and brightness loss. The front panel is made of tempered glass to keep it free of scratches and abrasions.
Product Variations
Exact Name
K-5 II
K-5 IIs
Color
black
black
Year of Introduction
2012
2012
Description
with built-in AA filter
without AA filter
Catalog Number
12015
12049
Sold with Case
—
—
Technical Specifications
General
Lens Mount
"crippled" KAF2
Mount Limitations
digital A aperture or metered manual only
AF System (sensitivity)
SAFOX X, 11 sensors, 9 cross-sensors, f2.8 sensor (-3 ~ 18 EV)
AF with supersonic lenses
yes
Power-Zoom Features
auto-lens retract, power zoom
Self-Timer
12 / 2 sec
Mirror Lock-Up
—
Cable Release
CS-205
Infra-Red Release
remote control F
Custom Functions
27
Additional Features
weather sealed, DOF preview, mirror lock-up
Width x Height x Depth
131 x 97 x 73 mm
Weight
676 g
Image Sensor
Effective Pixel Count
16.9 megapixel
Sensor Type
CMOS
Sensor Size
15.7 x 23.7 mm
Focal-Length Multiplication Factor
1.53 x
Image Storage
Data-Storage Formats
RAW (DNG, PEF), RAW + JPG, JPG
Storage Media
Secure Digital (SD and SDHC)
Digital Features
Shake Reduction
yes
Dust Removal
yes
Live View
yes
Orientation Sensor
yes
Exposure System
Exposure Modes
Av, HyM, HyP, P, Pgreen, Sv, TAv, Tv
Metering Modes with K and M Lenses
center-weighted, spot
Metering Modes with A and newer Lenses
77-segment, center-weighted, spot
Meter Material
SPD
Exposure Compensation (Step)
+/-5 (1/2 or 1/3 EV steps)
Exposure Lock
yes
Meter Range
0 ~ 22 EV
ISO Range
80 ~ 51200 ASA
Shutter
Construction
electronic (vertical)
Material
metal
Shutter Speeds
30 ~ 1/8000, B
Mechanical Speeds
—
Viewfinder
Magnification [Coverage]
0.92x [100%]
Aperture Indication
LED
Shutter-Speed Indication
LED
Interchangeable Screens
yes
Power Source
Batteries
1 x Lithium-Ion D-LI90 rechargeable
External
Battery Grip D-BG4
Continuous Shooting
Continuous Shooting
7 frames per second
Flash System
Command Protocol(s)
—
Features
HS, P-TTL
Synchronization Speed(s)
1/180 ~ 30, B
Built-In Flash
Guide Number (GN)
13
Coverage (35mm equivalent)
28
Auto Pop-Up
yes
Red-Eye Reduction
yes
AF Assist
yes
Accessories
Fitting Case(s)
soft case: O-CC55