K10D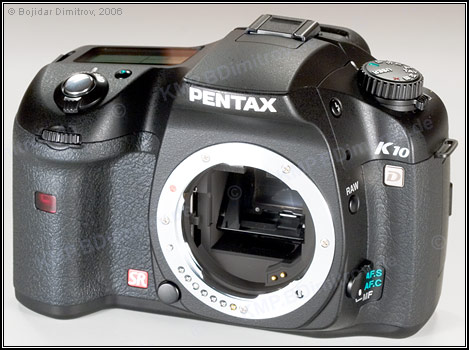 General Description
When introduced in 2006, the K10D was the top-of-the-line Pentax DSLR. The robust "semi-pro" body is much larger and heavier than its predecessors. The K10D incorporates the then new in-camera "shake reduction" (first introduced in the K100D), dust and weather seals, and it can operate lenses with in-lens focusing motors (SDM or DC). It was a success on the market and won the Japanse Camera Grand Prix 2007, the European EISA Camera award 2007, and the 2007 TIPA Digital SLR Expert award.
As Pentax and Samsung co-operated from 2005 until 2008, Samsung lauched a twin camera model badged as "Samsung GX-10".
The K10D GP camera body, D-BG2 GP Battery Grip and the O-ST55 Camera Strap make up the "PENTAX K10D Grand Prix Package". This limited edition package was sold in July 2007 as a commemoration of the K10D winning the prestigious Grand Prix 2007 Award in Japan. The camera body and battery grip are lined up with dark-brown rubber. The PENTAX logo on the camera's pentaprism housing, the K10D logo at the upper-left corner of the camera's front panel, and the mode digital indications are accented in a standard gold color signifying the limited-edition status. The "CAMERA GRAND PRIX 2007" lettering and the award logo mark are also displayed on the lower part of the LCD monitor of the camera's back panel. The specially designed leather camera strap features the "CAMERA GRAND PRIX 2007" lettering, the award logo mark, and the K10D logo, in the same gold color. Each camera body is identified with a serial number, which is exclusive to the PENTAX K10D Grand Prix Package. Pentax produced 5000 Grand Prix packages, and about 200 were sold in Germany for 1099 Euro each.
Product Information
Exact Name
K10D
Color
black
Year of Introduction
2008
Catalog Number
19095
Sold with Case
—
Technical Specifications
General
Lens Mount
"crippled" KAF2
Mount Limitations
digital A aperture or metered manual only
AF System (sensitivity)
SAFOX VIII, 11 sensors (0 ~ 19 EV)
AF with supersonic lenses
yes
Power-Zoom Features
auto-lens retract, power zoom
Self-Timer
12 / 2 sec
Mirror Lock-Up
—
Cable Release
CS-205
Infra-Red Release
remote control F
Custom Functions
32
Additional Features
weather sealed, DOF preview, mirror lock-up
Width x Height x Depth
141.5 x 101 x 70 mm
Weight
715 g
Image Sensor
Effective Pixel Count
10.2 megapixel
Sensor Type
CCD
Sensor Size
15.7 x 23.5 mm
Focal-Length Multiplication Factor
1.53 x
Image Storage
Data-Storage Formats
RAW (DNG, PEF), RAW + JPG, JPG
Storage Media
Secure Digital (SD and SDHC)
Digital Features
Shake Reduction
yes
Dust Removal
yes
Live View
—
Orientation Sensor
yes
Exposure System
Exposure Modes
Av, HyM, HyP, P, Pgreen, Sv, TAv, Tv
Metering Modes with K and M Lenses
center-weighted, spot
Metering Modes with A and newer Lenses
16-segment, center-weighted, spot
Meter Material
SPD
Exposure Compensation (Step)
+/-3 (1/2 EV steps)
+/-2 (1/3 EV steps)
Exposure Lock
yes
Meter Range
0 ~ 21 EV
ISO Range
100 ~ 1600 ASA
Shutter
Construction
electronic (vertical)
Material
metal
Shutter Speeds
30 ~ 1/4000, B
Mechanical Speeds
—
Viewfinder
Magnification [Coverage]
0.95x [95%]
Aperture Indication
LED
Shutter-Speed Indication
LED
Interchangeable Screens
yes
Power Source
Batteries
1 x Lithium-Ion D-LI50 rechargeable
External
Battery Grip D-BG2
Continuous Shooting
Continuous Shooting
3 frames per second
Flash System
Command Protocol(s)
—
Features
HS, P-TTL
Synchronization Speed(s)
1/180 ~ 30, B
Built-In Flash
Guide Number (GN)
11
Coverage (35mm equivalent)
28
Auto Pop-Up
—
Red-Eye Reduction
yes
AF Assist
yes
Accessories
Fitting Case(s)
soft case: O-CC55