K-01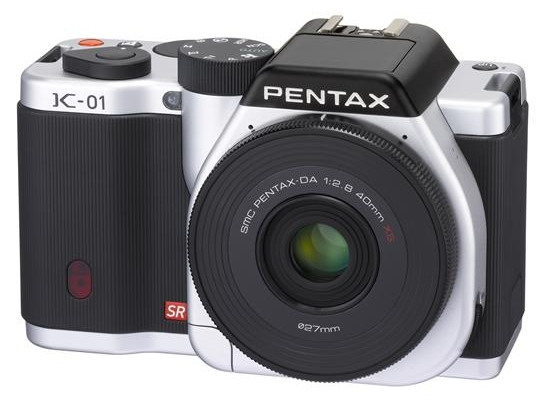 General Description
The K-01 was the first and so far only attempt of a K-mount mirrorless system camera. The design of the K-01 was developped by the renowned designer Marc Newson:
"A modern digital camera with a contemporary yet timeless design.
The camera body is compact and trim whilst preserving all the functions of a professional camera.
The lines are clean and simple creating an elegant graphical composition.
The materials convey quality and honesty.
Machined aluminium and natural rubber provide the user with a tactile and durable piece of technology."
The camera won the prestigious red dot design award; however it did not win very many fans or buyers,
as it is almost as big as a Pentax K-mount DSLR but it has no viewfinder.
Product Variations
Exact Name
K-01
K-01
K-01
K-01
Color
white-black
black
black-yellow
white-blue
Year of Introduction
2012
2012
2012
2013
Catalog Number
15241

unknown

unknown

unknown

Sold with Case
—
—
—
—
Technical Specifications
General
Lens Mount
"crippled" KAF2
Mount Limitations
digital A aperture or metered manual only
AF System (sensitivity)
SAFOX, 81 sensors, contrast AF only (1 ~ 18 EV)
AF with supersonic lenses
yes
Power-Zoom Features
—
Self-Timer
12 / 2 sec
Mirror Lock-Up
—
Cable Release
CS-205
Infra-Red Release
remote control F
Custom Functions
22
Additional Features
DOF preview, mirror lock-up
Width x Height x Depth
121 x 79 x 59 mm
Weight
480 g
Image Sensor
Effective Pixel Count
16.9 megapixel
Sensor Type
CMOS
Sensor Size
15.7 x 23.7 mm
Focal-Length Multiplication Factor
1.53 x
Image Storage
Data-Storage Formats
RAW (DNG), JPG
Storage Media
Secure Digital (SD, SDHC, and SDXC)
Digital Features
Shake Reduction
yes
Dust Removal
yes
Live View
yes
Orientation Sensor
yes
Exposure System
Exposure Modes
Pgreen, Video, P, Tv, Av, M, B, NoFlash, HDR, SCN
Metering Modes with K and M Lenses
center-weighted, spot
Metering Modes with A and newer Lenses
1024-segment, center-weighted, spot
Meter Material
the imaging sensor
Exposure Compensation (Step)
+/-3 (1/2 or 1/3 EV steps)
Exposure Lock
yes
Meter Range
-1 ~ 21 EV
ISO Range
100 ~ 25600 ASA
Shutter
Construction
electronic (vertical)
Material
metal
Shutter Speeds
30 ~ 1/4000, B
Mechanical Speeds
—
Viewfinder
Viewfinder
none, use the rear display
Power Source
Batteries
1 x Lithium-Ion D-LI90 rechargeable
External
—
Continuous Shooting
Continuous Shooting
6 frames per second
Flash System
Command Protocol(s)
—
Features
HS, P-TTL
Synchronization Speed(s)
1/180 ~ 30, B
Built-In Flash
Guide Number (GN)
12
Coverage (35mm equivalent)
28
Auto Pop-Up
yes
Red-Eye Reduction
yes
AF Assist
yes
Accessories
Fitting Case(s)

unknown