FA 43/1.9 Limited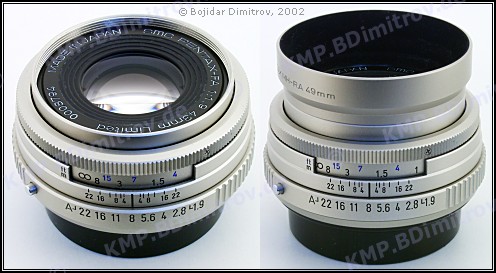 General Description
This is Pentax's first "Limited" lens. Despite its high price, the lens has sold extremely well, and is considered to be the reason that Pentax introduced further limited lenses. The lens combines exclusive design, excellent build, and a feel close to that of a manual focus lens. It is sold together with matching hood and lens cap, and a leather bag (which looks nice but does not offer much protection for the lens). The black version of the lens was introduced in 2000 and initially available only in Japan.
Pentax claims that the Limited lenses are designed to offer the very best optical and mechanical quality possible at the widest possible maximum aperture combined with a small size. Production is to be limited not by the number of units built but by the high demands of production process and quality control.
The focal length of this lens is exactly equal to the diagonal of the 35 mm film format, and this makes it the "perfect" "normal" lens. Its small size and low weight make it ideal for light travel and reporting.
The focusing mechanism is noticeably tighter than that of other AF lenses. This leads to a smooth, well damped and precise manual-focus feel but also a slightly slower and louder auto-focus. Like all AF lenses, this one focuses somewhat beyond infinity, so care should be taken when focusing it manually.
Product Variations
Exact Name
SMC PENTAX-FA 1:1.9 43mm Limited
SMC PENTAX-FA 1:1.9 43mm Limited
Color
chrome
black
Year of Introduction
1997
1999
Catalog Number
20170
20180
Sold with Hood
screw-on hood: MH-RA 49mm
screw-on hood: MH-RA 49mm
Sold with Case
soft case: brown leather, no name
soft case: brown leather, no name
Technical Specifications
Optics
Optical Formula
7 elements in 6 groups
Aperture Range
f/1.9 ~ f/22
Number of Aperture Blades
8
Minimum Focusing Distance
0.45 m
Maximum Magnification
0.125 X
Special Features
ghostless coating
Mechanics
Filter Diameter
49 mm
Maximum Diameter
64 mm
Length
27 mm
Weight
155 g
Accessories
Cap
metal slip-on cap, 54 mm
Fitting Hood(s)
screw-on hood: MH-RA 49mm
Fitting Case(s)
soft case: brown leather, no name
Subjective Evaluation
The FA 43/1.9 Limited provides decently high resolution at f/2.8 and is fantastic from f/4 to f/11. Amateur Photographer made this lens their reference normal lens, and magazines like Outdoor Photography and FotoMagazin agree that it is a very sharp and contrasty lens, practically free of flare, with some barrel distortion. What makes this lens so special is its focal length (most users prefer it over a 50 mm lens) and its bokeh — exceptionally smooth and pleasing at all apertures, rendering light sources at night especially beautiful, and making pictures seem very natural and "3-dimensional."