FA* 24/2 AL [IF]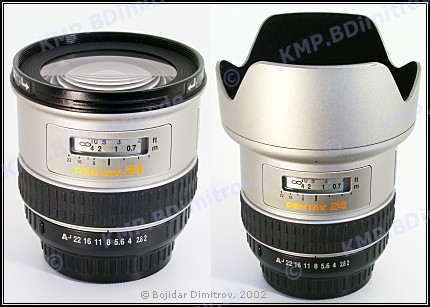 General Description
This lens is quite large and heavy, but features an attractive widest aperture and excellent build quality. Unfortunately, as with all silver star-lenses, the silver paint is quite easy to scratch. If you need the f/2 aperture, this is your only choice from Pentax.
Product Information
Exact Name
SMC PENTAX-FA* 1:2 24mm IF & AL
Color
silver-black
Year of Introduction
1991
Catalog Number
22630
Sold with Hood
bayonet hood: PH-RBB67
Sold with Case
soft case: S90-100
Technical Specifications
Optics
Optical Formula
11 elements in 9 groups
Aperture Range
f/2 ~ f/22
Number of Aperture Blades
8
Minimum Focusing Distance
0.3 m
Maximum Magnification
0.125 X
Special Features
aspherical element(s), internal focusing
Mechanics
Filter Diameter
67 mm
Maximum Diameter
73 mm
Length
66 mm
Weight
405 g
Special Features
AF/MF clutch
Accessories
Cap
plastic clip-on cap, 67 mm
Fitting Hood(s)
bayonet hood: PH-RBB67
Fitting Case(s)
soft case: S90-100
Subjective Evaluation
The opinions on this lens differ quite widely. Some are very satisfied with its performance and happy about its widest aperture, others are less enthusiastic. All agree that the lens is very sharp at narrow apertures, but some complain about poor corner sharpness at wide apertures. Since there exists 24/2.8, the most important reason to get this lens is its f/2.0 aperture. But if it is not that good at f/2.0, why should get it in the first place? In addition some say that this lens performs less well on digital bodies as with film, in particular with respect to cromatic aberation. Apparently geometric distortion is also not that great, but this should be less of an issue with cropped digital sensors.