HD DA 21/3.2 AL Limited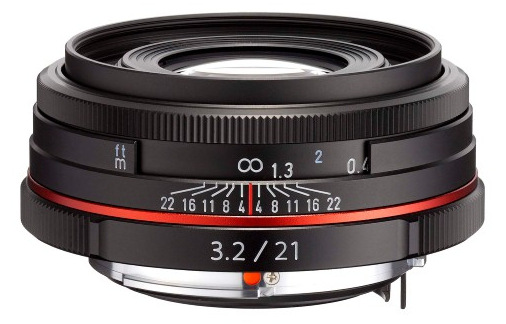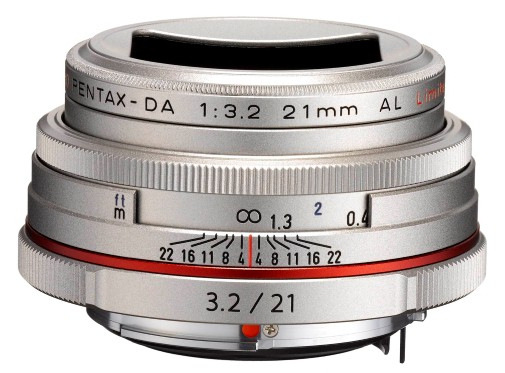 General Description
This lens is almost identical to its predecessor, the smc PENTAX-DA 1:3.2 21mm Limited except for the following differences:
The new HD coating reduces reflections more effectively than the SMC coating. This increases the image contrast especially with back-light conditions.
The HD DA 35/2.8 has a rounded iris diaphragm (from f3.2 to f4) to enable soft round rendering of out-of-focus objects like point light sources.
The "Pentax 21" lettering on the top side of the lens barrel is replaced by "3.2/21".
The HD version is 6 g lighter than the SMC version.
The HD version is available in black or silver while the SMC version was available in black, only
The dedicated hood of this lens has a bayonet mount. The counterpart, i.e. the lens's bayonet mount for the hood, is placed beneath the 49mm filter thread. Therefore, when the hood is mounted to the lens, the 49mm fiter thread is hidden. However, the hood has its own 43mm filter thread on its rear side, so that slim 43mm filters can be used when the hood is mounted to the lens.
Product Information
Exact Name
HD PENTAX-DA 1:3.2 21mm AL Limited
Color
black
silver
Year of Introduction
2013
2013
Catalog Number
21410
21420
Sold with Hood
bayonet hood: MH-RBB43 (black)
bayonet hood: MH-RBB43 (silver)
Sold with Case
soft case: leather, no name
Technical Specifications
Optics
Optical Formula
8 elements in 5 groups
Aperture Range
f/3.2 ~ f/22
Number of Aperture Blades
7
Minimum Focusing Distance
0.2 m
Maximum Magnification
0.17 X
Special Features
aspherical element(s), floating elements
Mechanics
Filter Diameter
49 mm
Maximum Diameter
63 mm
Length
25 mm
Weight
134 g
Accessories
Cap
metal slip-on cap, 51 mm
Fitting Hood(s)
bayonet hood: MH-RBA 43mm
Fitting Case(s)
soft case: leather, no name